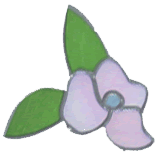 The Part Two Dance Company 

Were you ever in The Part Two Dance Company? We are looking for any photos or information to post on our Alumni page.

Please submit information to countyballetdanceshop@gmail.com THANKS

Cassandra Voborsky received training from Pamela Lauer, the Peabody Conservatory, the Hartford Ballet, the Washington School of Ballet, Central Pennsylvania Youth Ballet, and the Royal Danish Ballet in Copenhagen, Denmark. Her performing experience includes Sleeping Beauty, The Nutcracker, Coppelia, contemporary modern and jazz works with Hartford Dance Theater, and classical repertoire such as Swan Lake with The Washington Ballet's Young Dancers. Her final year of high school was spent in Oldenburg, Germany, where she had the opportunity to perform with the ballet company of the Oldenburgishes Staatstheater.

In January 1992, Cassandra joined Ballet Magnificat! She became a member of the touring company in 1993 and toured for over twelve years both nationally and internationally. Together with husband Jiri Sebastian, Cassandra served as one of the technical directors on the road. She was promoted to the Assistant Artistic Director to Kathy Thibodeaux in 2000. Cassandra retired from her professional career as a dancer in December 2004 during the annual Christmas gala performances of Ballet Magnificat! in Thalia Mara Hall in Jackson, Mississippi.

Since the completion of her performing career, Cassandra has directed the Trainee Program, developing it into an international division of Ballet Magnificat, with students from the United States and many foreign countries, including Australia, Malaysia, New Zealand, Germany, Poland, Macedonia, Canada, South Africa, and Japan. Cassandra has conducted ballet technique Master classes all over the United States, as well as in Singapore, Greece, Belgium, Israel, the Dance Center Conservatory in Prague, the Czech Republic, and most recently in ballet schools in East London and Cape Town, South Africa. Cassandra was featured in the Braun Buffel world-wide ad campaign, shot in Singapore during the 2003 Ballet Magnificat! tour. Cassandra and Jiri have three beautiful children, Benjamin Isaiah, Maya Terezka, and Solomon Jeremiah.

Miss Pam,

I always love to hear from you and I'm glad you are celebrating 30 years and more! I have now been in Jackson for 20 years this week. That's now half of my life. It's hard to believe but God has so changed and blessed my life over the years. I turned 40 in November and had a little time to reflect on His goodness. Otherwise, life definately got busier with three kids now and 40 trainees to keep on track. This Christmas we premiered a new full length ballet "Snow Queen" and it was fun to work on costumes, sets, new choreography, etc. We hope to take it to big cities in the future. I would love for you to see it.

I pray you have a fruitful and joyful new year and you would grow in the grace and the knowledge of Him!

Love, Cassandra

Marie Blum - Mercyhurst College, Erie, PA. BFA / 

Claire St.John  started her journey at County Ballet Dance Studio in Bel Air, MD at the age of 6. Her training encompassed many varieties of dance with a focus in classical ballet. Her early performance experiences were as a soloist with Part Two Dance Company for 4 years, danced with Moscow Ballet in The Great Russian Nutcracker for 3 consecutive show seasons, and performed in the ballet Giselle with L'Etoile Russian Ballet Academy alongside ABT soloists Veronika Part and Vitali Krauchenka. She also studied at The Nutmeg Dance Conservatory back in 2014, in the pre professional summer program. 

In 2017, she graduated from the Baltimore School for the Arts where she trained under Norma Pera, Barry Hughson, Deborah Wingert, and Demitri Malikov of Bolshoi Ballet. During her time there she performed in their annual nutcracker and multiple works from the Balanchine trust such as, Who Cares? and A Russian Serenade. 

After graduation she attended Shenandoah University as a BFA in Dance where she trained under Shylo Martinez, Maurice Fraga and Tiffanie Carson. During her time at SU she was the captain of collage dance team, The Doah Dolls.

Claire is currently working towards her bachelor's degree in Marketing and Small business management, teaching at Studio One Dance Center in Branford CT and at Goodman Performing Arts Center in Orange CT. (1/2022)

Cassandra Voborsky, Ballet Magnificat, Jackson, Miss.